Ralston Valley boys dunk way into second round with win over Pine Creek
Ralston Valley sophomore Dallas Walton elevates for his first of three dunks Wednesday night at Ralston Valley High School. The Mustangs defeated Pine Creek 72-54 in the first round of the Class 5A boys basketball state tournament. (Dennis Pleuss)
ARVADA — You don't want to see Ralston Valley sophomore Dallas Walton when he gets angry.
"I tell him, 'You are an angry dunker.' That last one was a little angry," Ralston Valley coach Mitch Conrad said of his 6-foot-9 sophomore's third a trio of dunks Walton threw down Wednesday night in a first-round Class 5A boys basketball playoff game against Pine Creek.
No. 5-seeded Ralston Valley took advantage of its height advantage against No. 12 seed Pine Creek to move into the second round with a 72-54 home victory.
"I knew going into this game that (Pine Creek) could shoot," said Walton, who finished with 15 points. "The only way to beat them was to punish them inside."
Senior Zac Stevens had a game-high 16 points, doing most of his damage in the paint. Pine Creek senior Joey Black was doing a good job defensively in the middle for the Eagles, but when Black had to leave the game with a left knee injury with 5:03 left in the second quarter the Eagles' problems down low began.
Pine Creek (8-16) actually jumped out to a 12-5 lead midway through the first quarter.
"That kind of happens some games," Conrad said of Ralston Valley falling behind early. "You know it is do-or-die for this first one. It was good to get that out of our system and hopefully we'll play loose. We are the underdog in the next game."
The Mustangs (17-7) went on a 19-2 run during an eight-minute run in the first half to take a double-digit lead at halftime. Junior Andrew Wingard had a strong game for Ralston Valley with 14 points.
"Right when he (Black) went out of the game, Zac and I looked at each other," Walton said. "We knew it was time to get it inside."
Ralston Valley also had a massive advantage at the free-throw line. The Mustangs were 25-for-32 from the charity stripe. The Eagles were just 5-for-7 from the free-throw line.
Pine Creek coach Duke Stewart admitted the loss of Black hurt, but he said was frustrated with the way the game was called.
"When they shoot 32 free throws and we shot seven that makes a big difference," Stewart said.
The Eagles made five 3-pointers, but it wasn't enough to pull off the upset. Junior Jared Savage (14 points) and senior Derek Keirns (10 points) led Pine Creek in its season-ending loss.
Pine Creek came into the state tournament having lost 10 of 11 games to end its regular season, but the Eagles had a handful of close losses during that stretch. Quality wins over strong 4A teams Denver West and Thomas Jefferson — both earned first-round byes in the 4A state tournament — didn't hurt getting Pine Creek into the 5A tournament.
"It was a rough season. We took our bumps and bruises," Stewart said. "Every game we played in, minus maybe two, we were right in there. I think Savage will be a huge core of what we are going to do and build on for next year."
No. 4 seed Fort Collins (18-5) had players and coaches on hand at Ralston Valley High School to scout the team it will host will host at 6 p.m. Saturday, March 1.
The Lambkins won seven of eight games before receiving a first-round bye entering the playoffs. Fort Collins finished second in the 5A Front Range League. Senior Toby Van Ry (18.7 points and 7.3 rebound per game) has been the driving force for the Lambkins this season.
Walton said he was excited to go head-to-head against the 6-foot-9 Van Ry.
"I love playing guys my height," Walton said. "It's a great experience for me to see what I can do."
Conrad is expecting a close game up in Fort Collins on Saturday.
"I think it is two evenly matched teams in my book," Conrad said. "We played them this summer and it went down to the wire. I'm expecting a great game both ways."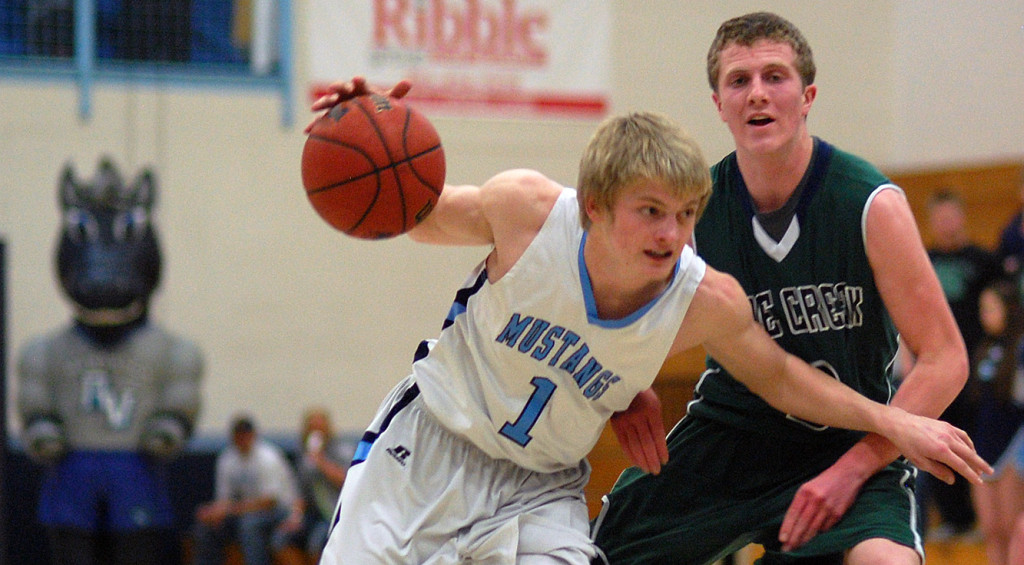 ---